The jags and brushes I use are in one of these MTM cases made for it, four sections, one is crossways near hinge: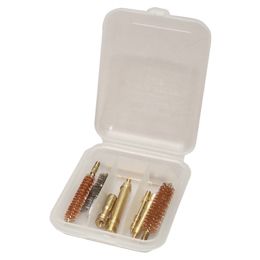 The spares go in Altoid mint tins. Perfect fit, marked by caliber with a Dymo label gun.
Different sized prescription pill bottles do a lot, too. Like for cotton swabs, patches, my Wheeler screwdriver bits, etc..
My rods are easy. I have a three piece Hoppe's rifle rod. If I leave out the middle section, it's perfect for my 10/22. My handgun rods are 4 inch one piece brass Deweys, with a loop end.
All the rods go in the tray of the Flambeau tool box I use for my tools and cleaning gear.