Well, since I haven't been here in a while, I need to add this…
I had been looking for a 10/22 Takedown in a camo version with blued barrel for a while, but they're kinda hard to find.
After looking at what was available one day this past summer at the LGS, I decided to get a black one with blued barrel and then wrap it in Grim Reaper skin...sorta matches my CORE15.
Picked the rifle up the first weekend of August and the skin came in the following Friday.
So, the next day, I went up to the LGS and applied it to the rifle.
It's not hard to do except around any curves and being the perfectionist, it took me longer than if I had been doing someone else's firearm.
Though, I'd still be the perfectionist with someone else's - just the way I am.
I may have a job, if anyone comes in and wants something done to their firearm...
There are a few places, but not a lot, where I had to let the perfectionist go or I'd never get it done. :shrug:
I suppose they won't be noticeable to someone not looking for them.
Here are a few pictures...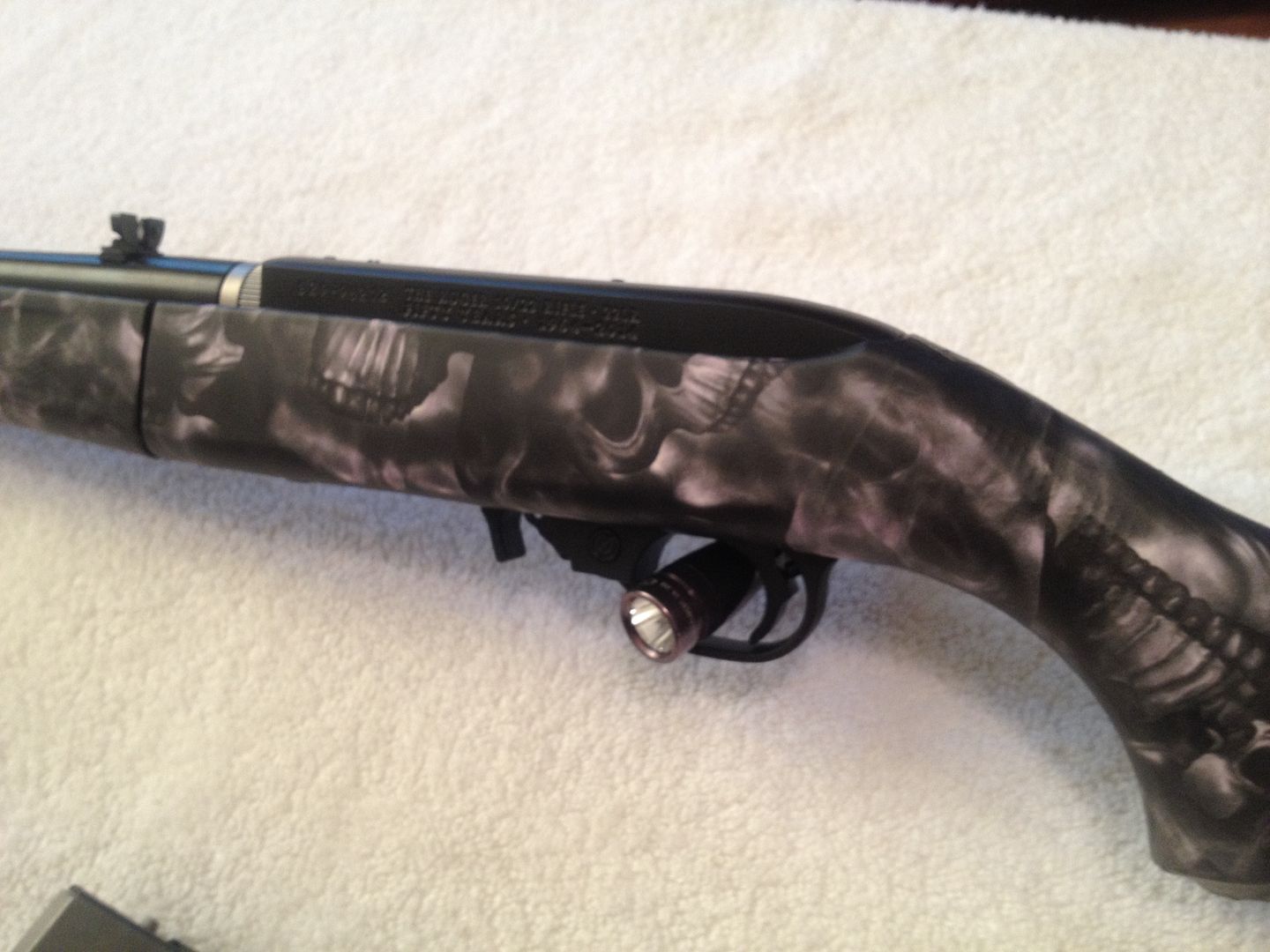 I also picked up a new trigger for it before Christmas…installed it the week after - it is a more better improvement over the stock trigger.
Quote:
The BX-Trigger™: a light, crisp, "drop-in" replacement trigger assembly that is compatible with all Ruger® 10/22® rifles and 22 Charger™ pistols. The BX-Trigger™ is a Genuine Ruger Factory Accessory and is the perfect upgrade for all 10/22® rifles and 22 Charger™ pistol models because of the significantly reduced pull weight of approximately 2.75 pounds (versus 6 pounds on the standard 10/22® trigger). The BX-Trigger™ is sold as a complete assembly that drops in to replace the existing trigger assembly. A video of the installation process can be found at Ruger.com/BX-Trigger.
http://shopruger.com/BXTrigger/productinfo/90462/